Approach
Approach
Project details



TCLOUDS puts its focus on privacy protection in cross-border infrastructures and on ensuring resilience against failures and attacks. TCLOUDS aims to build prototype internet-scale ICT infrastructure which allows virtualised computing, network and storage resources over the Internet to provide scalability and cost-efficiency.
In prototype development, it is a priority to address the challenges of cross-border privacy, end-user usability, and acceptance that are essential for widespread acceptance of such an infrastructure.
Start date:

2010-10-01

End date:

2013-09-30

Duration:

36 months

Project reference:

257243

Project cost:

€ 10.536.129,00

Project funding:

€ 7.500.000,00
Project Coordinator
Klaus-Michael Koch
Technikon Forschungs- und Planungsgesellschaft mbH
Burgplatz 3a | 9500 Villach | Austria
Technical Leader
Christian Cachin (IBM Research GmbH)
Strategy
The work plan of TClouds encompasses four independently managed Activities and twelve tightly integrated Work Packages.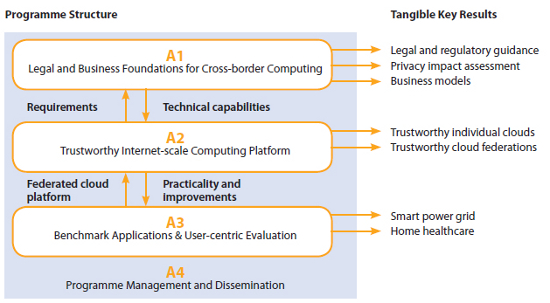 Activity A1:
Legal and Business Foundations for Cross-border Computing
A1 is responsible for legal and regulatory guidance, the privacy impact assessment for cross-border clouds, and viable business models for cloud providers.
Activity A2:
Trustworthy Internet-scale Computing Platform
A2 is responsible for the TClouds platform. This platform includes trustworthy individual clouds that are based either on extending commodity clouds or on strengthening cloud operation software.
Activity A3:
Benchmark Application & User-centric Evaluation
A3 is responsible for delivering the Smart Lighting and Home Healthcare cloud scenarios as well as self-evaluation and self improvement through end-user and expert feedback.
Activity A4:
Programme Management and Dissemination
A4 is responsible for wide and effective dissemination as well as the proper programme management that ensures timely and high-quality delivery of all results while mitigating emerging conflicts.
Objectives
Trustworthy Clouds (TClouds) aims to build a prototype Internetscale ICT infrastructure which allows virtualized computing, network, and storage resources over the Internet to provide scalability and cost-efficiency. The following objectives contribute to achieving the overall goal:
Identifying and addressing the legal and business implications and opportunities of a widespread use of infrastructure clouds, contributing to building a regulatory framework for enabling resilient and privacy-enhanced cross-border infrastructure clouds.
Defining an architecture and prototype for securing infrastructure clouds by providing security enhancements that can be deployed on top of commodity infrastructure clouds (as a cloudof-clouds) and assessing the resilience and privacy benefits of security extensions of existing clouds.
Providing resilient middleware for adaptive security on the cloud-of-clouds. The TClouds platform will provide tolerance and adaptability to mitigate security incidents and unstable operating conditions for a range of applications running on such clouds-of-clouds.
To demonstrate TClouds, scientists will prototype two scenarios involving critical IT- systems:
A smart lighting control system with Portugal's leading energy and solution providers Energias de Portugal and EFACEC: TClouds will exhibit a public-infrastructure solution as part of the smart grid and show how to migrate it to a secure cloud. This increases the resilience against hardware failures, adds privacy protection and protects from hacker attacks and other security problems.
A patient-centric home healthcare service with San Raffaele Hospital in Milano, Italy: TClouds will demonstrate a cloud-supported solution that supports multiple different actors and remotely monitors, diagnoses and assists patients outside a hospital setting. The service respects security and privacy requirements and regulations governing patient data.